About Us
The Hubberton Hikers were originated from an idea by Andrew Bradley (now known as LEADER) talking with Jonathan Lord. The idea first arose in July of 2000 while they were on the out-set of the Pennine way, after Brian Ennis of the Thursday night quiz team asked Andrew to create some local walks for the "Elderly". After many months of planning the first hike was planned for October 26th 2002 on which twenty six people and one dog (Sally) turned out. It was then decided after such a great response to hold one hike every month on a given date. This has now gone on at a tremendous pace with a probable total now of over forty hikers. Many friendships have been instigated through the club and I'm sure many more will follow.
Twice a year in May and September, the hikers go Youth Hostelling to different areas. For example we have been to Castleton in Derbyshire and Stainforth in the Yorkshire Dales. The Youth hostelling was instigated by Andrew and two Coventry "Lads" whom he met on the Pennine way, Martin Towe and Brian Vicars.
In 2004 we successfully completed the 3 Peaks Challenge for various charities, and in 2005 the Lyke Wake Walk, 42 miles in one day, across the North York Moors.
In more recent years a week of overseas hiking has become an annual fixture.
The beauty about such a good team is that ANYBODY can join us on our Monthly walks at very little if any cost!
If anybody would like further information, please call the LEADER on 01422 839881 or 07941 072530, or email at yorkieboy1@live.com.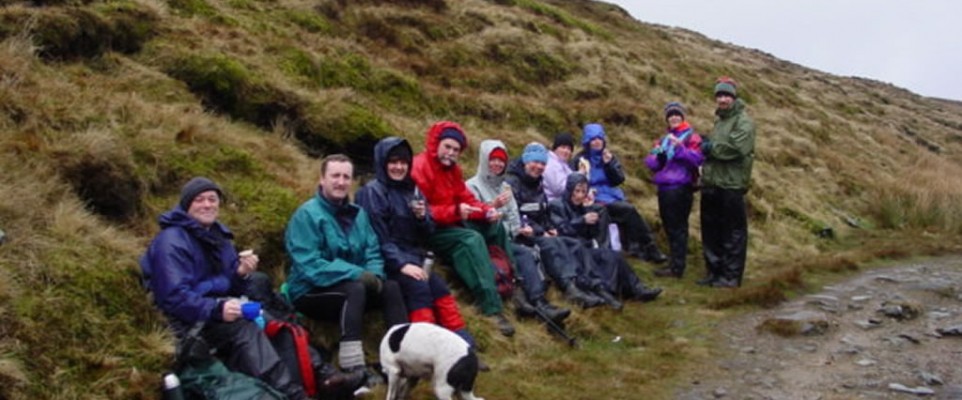 2017 Diary Dates
Will all Hikers please note that these dates ARE subject to CHANGE!
Sat 14th Jan 2017 11am
Hubberton Hike: Leader.
Sat 11th Feb 2017 11am
Hubberton Hike: Martin Towe's birthday BONANZA. Geoff Leading the Walk.
Sat 11th Mar 2017 11am
Hubberton Hike: Diane
Sat Mar 25 2017
Hubberton Hikers Christmas Party.
The Stubbing Wharf. (Clocks go FORWARD 1 hour in the morning)
Sat 8th Apr 2017 11am
Hubberton Hike: Lesley Ennis.
Fri 12th - Sun 14th May 2017
Hubberton Hike: YHA Scarborough.
Sat 3rd Jun 2017 11am
Hubberton Hike: Julie and Michael.
Deatils here
11th July - 18th July 2017
Hubberton Hikers Go INTERNATIONAL - The Dolomites
Sat 15th July 2017
For the non-international Hikers
Hubberton Hike: HHIL
Deatils here
Sat 12th Aug 2017 11am
Hubberton Hike: Linda Towe.
Deatils here
Fri 22nd - Sun 24th Sep 2017
Hubberton Hike: YHA - High Close Langdale.
Sat 14th Oct 2017 11am
Hubberton Hike: Kath's birthday canter.
Deatils here
Sat 11th Nov 2017 11am
Hubberton Hike: Sharon.
Deatils here
Sat 9th Dec 2017 11am
Hubberton Hike: Edward Whipp.